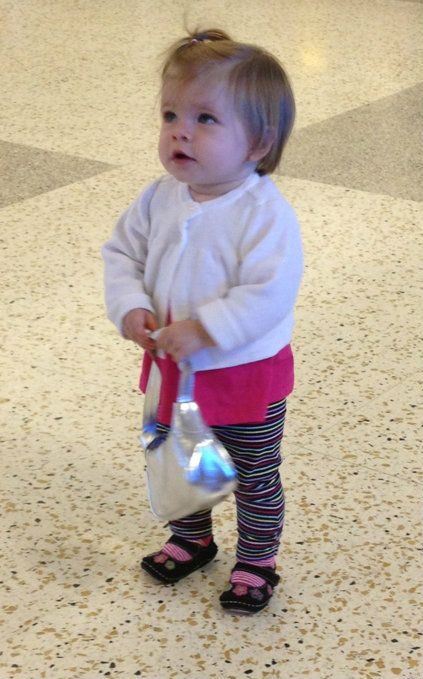 Last week I posted about our issues with separation anxiety, and I am happy to report they are getting much better. Though now that I'm more confident in what it takes to get this to work, I'm scared to rock the boat (read: different daycare lady on Fridays/weekends that doesn't know our "process").
So here are some of the factors that play into my child being happy enough to leave in the gym daycare for 90 minutes:
Transitional item: This was the best piece of advice I received from my mom friends when I posted our daycare drama on Facebook. (We are all guilty of venting on Facebook once in awhile right? This is actually, in my opinion, one of the primary reasons to have it - a quick way to get personalized advice from those who have been there, done that, and know you. Anyway...) The transitional item suggested was a snack, which might have worked great, but since this is just a gym daycare and not a full-blown regular daycare, I wasn't really comfortable with her having food in this place (they probably felt the same way). So instead we brought in a small white bear, "Baby Bear", as her friend to keep her company.
Someone to play with: We go to the gym in the morning, which is the only time that works with our nap schedule and the daycare availability. Not to mention the rush hour shift (5-8pm) can have two dozen kids in there with ONE adult. No thanks. A CUTE little boy started going to the gym daycare in the morning so it seems to help if there is a little friend for Bugga to play with when she gets there.
A special toy: My daughter has developed an obsession for purses. No joke. Not sure if she's just mimicking Mommy or just NEEDS to have something slung over a wrist, but she takes a purse everywhere. And the gym daycare has one for her to carry around too. Oh and the daycare lady also hands her a little baby doll wrapped in a blanket which Bugga promptly tosses into a grocery cart and pushes around the room. But I digress.
Leaving: OK I am still waiting for all the above distractions to keep her happy long enough that I can back out of the room. I am scared to say good bye at this point, just to remind her I am leaving and start the tears. It helps to know that she is fine when I leave now (I peek), and when I come back to get her, she lights up when she sees me, and blows kisses to the daycare lady as we head out. So she is clearly having fun in there.
We've made a LOT of progress in the past week, and I am very proud of my little kiddo. It would have been so much easier to just give up and work out at home when she naps and not put her through all this, but then what kind of parent is THAT? Obviously I can't keep her at home with me forever (I wish!) and the benefit of staying home with her is I have the flexibility in my schedule that I can be patient with her need for adjustment time. I feel it is my job, and honestly my preference, to help her through this.
The gym uses one woman most of the week (Mon-Thurs) for the morning daycare, and then Friday and Saturday are two different women. And right now, this is reason enough for me to not have to workout on Fri-Sat because I'm scared to rock the boat this week! Maybe next week she'll be established enough to have a new variable in her morning plans. Kids love a routine, so I just need to stick with it.